Who we are
National University of Political Studies and Public Administration (SNSPA) is the main school of government in Romania. Its institutional outlook is oriented towards promoting and putting into practice the connection between the academic process and the real transformation of Romania. Thus, SNSPA is constantly pursuing the objective of training professionals able to contribute, through their skills and knowledge, to the creation and implementation of public policies in Romanian and European institutions.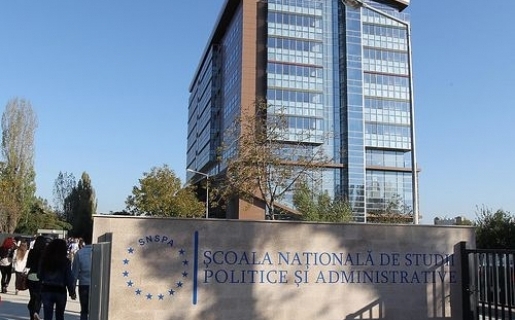 According to its mission, SNSPA delivers and promotes knowledge through its educational and research activities. SNSPA provides professional competencies in the field of social and political science, public administration, economy and public relations. It also contributes to the national and international developments and transformations in these fields, in the spirit of democratic values and principles and of openness to European and international cooperation. SNSPA's activity is characterized by intensive research: the study of the Holocaust, gender studies and other. In this context, in October 2012, by a Decision of SNSPA's Senate, the Center of Israeli Studies (CIS) within the Faculty of Political Science was founded.
The Center committed to promote the regional studies in order to facilitate the knowledge of political realities in various geographical areas. Also, it aims at advancing the knowledge and to provide a rigorous academic perspective on issues pertaining to the Israeli government, politics and society. The CIS was created in order to provide a more nuanced analysis and an academic alternative to the journalistic or one-sided approaches.
In this context, it must be mentioned that one of the principles of CIS is to distance itself from politicized or propagandistic positions. The need for such an approach is motivated by the necessity to analyse diverse perspectives of Israel.
Although we have recently witnessed the emergence of Romanian research centres and graduate programs of regional studies that satisfy the student's interest in scrutinizing different areas of the world, until recently there has been no center for Israeli studies. The importance of such a center lies in the fact that Israel is situated in one of the most significant and complex regions of the world and has unique socio-political traits. Without understanding these traits, we cannot have a complete image of the Middle East. The activity of the center will focus on the analysis of Zionism, as movement and national ideology, and on a thorough analysis of Israel's political, economic and social relations.
The Center for Israeli Studies is functioning under the active surveillance of Prof. Dr. Liviu Rotman, Head of the CIS, accompanied during the years of current functioning by the following assistants: Dr. Horia Bărbulescu (2012-2014), Dr. Gabriela Ion (2014-2015), Ildiko Galeru, Phd. and Daniel Gheorghe.